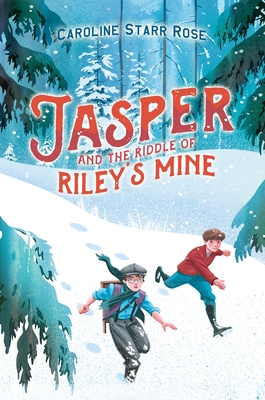 Jasper and the Riddle of Riley's Mine by Caroline Starr Rose (Feb 7, 2017, Putnam, 304 pages, for ages 8 to 12).
Synopsis (from Indiebound):
Desperate to get away from their drunkard of a father, eleven-year-old Jasper and his older brother Melvin often talk of running away, of heading north to Alaska to chase riches beyond their wildest dreams. The Klondike Gold Rush is calling, and Melvin has finally decided the time to go is now even if that means leaving Jasper behind. But Jasper has other plans, and follows his brother aboard a steamer as a stowaway.
Onboard the ship, Jasper overhears a rumor about One-Eyed Riley, an old coot who's long since gone, but is said to have left clues to the location of his stake, which still has plenty of gold left. The first person to unravel the clues and find the mine can stake the claim and become filthy rich. Jasper is quick to catch gold fever and knows he and Melvin can find the mine; all they have to do is survive the rough Alaskan terrain, along with the steep competition from the unscrupulous and dangerous people they encounter along the way.
Why I recommend it
: Caroline Starr Rose continues to impress me. I've been a fan of her blog since even before
May B
. pubbed. And
May B.
made me fall in love with verse novels. I found
Blue Birds
equally as gorgeous and impressive. Now, she's turned her expert historical fiction skills to prose. And an exciting tale it is.
Jasper is so gosh darn likable and funny, you can't help but want to cheer him on. He's flawed, of course, and often breaks the rules, but his heart is in the right place. If you're a writer, study this one for how to make your main character both realistic and likable.
Of course, this is also is an adventure story on a grand scale. Rose keeps you turning pages as you race to decipher the clues to the riddle. You'll feel as if you're right there shivering with the boys as they head north, trying to locate the mine and meeting plenty of dastardly antagonists along the way. You can tell the author has done her research. The details about the Klondike Gold Rush are riveting.
Favorite lines: "Gold," I say again. The word feels warm and round and strange on my tongue (from page 3 of the arc).
Bonus: This would make a wonderful read-aloud.
Giveaway details: One lucky reader will receive both a brand-new hardcover copy of JASPER AND THE RIDDLE OF RILEY'S MINE, plus (through the generosity of the author) one 40-page journal, with a quote from the book on its cover.
(If you'd like the book but not the journal, please mention this in the comments, and if randomizer picks you, I'll choose someone else for the journal.) This giveaway is open to US mailing addresses only and ends on Sunday February 19, 2017 at 10 pm EST. To enter, you must be a follower of this blog and you must comment on this post. Winner will be announced on Monday February 20, 2017.