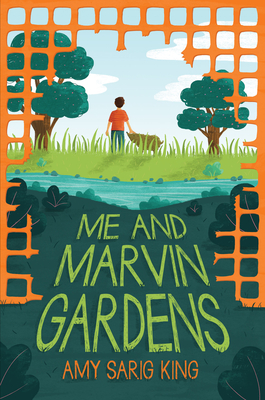 Me and Marvin Gardens by Amy Sarig King (January 31, 2017, Arthur A. Levine Books, 256 pages, for ages 8 to 12)
Synopsis (from Indiebound):
Obe Devlin has problems. His family's farmland has been taken over by developers. His best friend Tommy abandoned him for the development kids. And he keeps getting nosebleeds, because of that thing he doesn't like to talk about. So Obe hangs out at the creek by his home, in the last wild patch left, picking up trash and looking for animal tracks. One day, he sees a creature that looks kind of like a large dog. And as he watches it, he realizes it eats plastic. Only plastic. Water bottles, shopping bags... No one has seen a creature like this before, because there's never been a creature like this before. The animal--Marvin Gardens--becomes Obe's best friend and biggest secret. But to keep him safe from the developers and Tommy and his friends, Obe must make a decision that might change everything.
Why I recommend it:
I've read every weird and amazing YA novel A.S. King has written. So I was thrilled when I learned A.S. King (also known as Amy Sarig King) had finally written a novel for the middle grade reader. And what an extraordinary novel it is. The writing is spare and the voice is spot-on. I love the way each Obe-centered chapter begins. (Examples -- Chapter 1: "There were mosquitoes." Chapter 3:"There was a mess." Chapter 9: "There were questions.") Interspersed with Obe's short present-day chapters are even shorter chapters titled "One Hundred Years Ago", where we learn more about Obe's ancestors and how the Devlin land was lost.
Obe is a likable character, filled with righteous anger over the development of his family's land. Marvin Gardens is undoubtedly the most unusual animal you'll ever encounter in MG fiction. And in case you're wondering -- yes, Obe names him for the Monopoly property. In fact, Monopoly plays an important part, and small illustrations of vintage Monopoly pieces decorate the beginning of each chapter.
If you've ever played Monopoly, you know it's a ruthless game of acquiring properties and building on them. It's easy to guess that Amy King hates the way developments have taken over once-beautiful and once-productive farmland, not just her own family's land in Pennsylvania (see the About the Author page) but all over our country. And she must feel the same way I do about global warming and pollution. This book is the perfect read for "Earth Month" -- which Obe's favorite teacher insists we should have instead of just one day.
Favorite lines: "
Upstream were two finished housing developments and across the tree line was a flattened dirt wasteland scattered with construction equipment that looked like monsters in the falling light. The developer bought the last of the Devlin fields six months ago and planted more house seeds. Soon, more houses would grow." (from p. 10 of the hardcover)
Bonus:
Besides the environment (certainly a timely and important theme), this book explores bullying, friendship, and family relationships.
A.S. King's official hideout
Follow her on Twitter