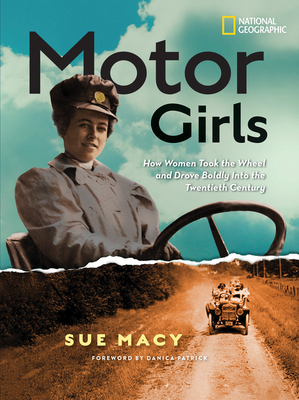 Motor Girls: How Women Took the Wheel and Drove Boldly Into the Twentieth Century by Sue Macy (February 7, 2017, National Geographic Children's Books, 96 pages, for ages 10 and up)
Synopsis
(
from the publisher)
: Come along for a joy ride in this enthralling tribute to the daring women - Motor Girls, as they were called at the turn of the century - who got behind the wheel of the first cars and paved the way for change. The automobile has always symbolized freedom, and in this book we meet the first generation of female motorists who drove cars for fun, profit, and to make a statement about the evolving role of women. From the advent of the auto in the 1890s to the 1920s when the breaking down of barriers for women was in full swing, readers will be delighted to see historical photos, art, and artifacts and to discover the many ways these progressive females influenced fashion, the economy, politics, and the world around them.
Why I recommend it
: I need to read more nonfiction, so when National Geographic offered me a free review copy, I gladly accepted (and I will donate it to my local library). I learned so much from reading this slim and yet entertaining book. It's chock-full of fascinating tidbits from automotive history, and the history of women's rights. Includes dozens of old photos, reproductions of original newspaper articles, and full-page bios of amazing women like Alice Ramsey, the first woman to drive across the United States in (can you believe it?) 1909! And A'Lelia Walker (daughter of self-made millionaire Madam C.J. Walker) who drove wounded soldiers in World War I as one of the members of the only Colored Women's Motor Corps.
Sue Macy has done her research. This is a delightful book. And a painless way to absorb a little history and learn about some pioneering women. I would have been happier if the cover had more kid-appeal, though. I found the photo on the back cover more interesting.
Favorite lines
: (from p. 90) Requirement for Girl Scout Automobiling Merit Badge, 1916
1) Must pass an examination equal to that required to obtain a permit or license to operate an automobile in her community.
2) Know how to start a motor and be able to do it and be able to explain necessary precautions.
3) Know how to extinguish burning oil or gasoline.
(Yeah. Isn't that last one a kicker?)
Bonus:
This is a must-have for libraries.
Sue Macy's website