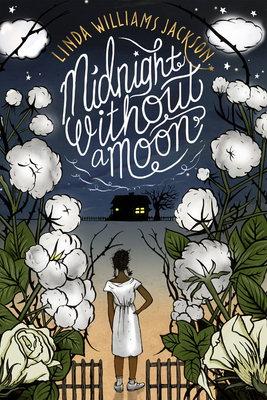 Midnight Without a Moon by Linda Williams Jackson (January 3, 2017, HMH Books for Young Readers, 312 pages, for ages 10 and up)
Synopsis (from the publisher):
It's Mississippi in the summer of 1955, and thirteen-year-old Rose Lee Carter can't wait to move north, following in the footsteps of her mama and her aunt. But for now, she's living with Ma Pearl and Papa, her grandparents, who are sharecroppers on a cotton plantation. Though she's heard bits and pieces about the civil rights movement, Rose is more interested in leaving the South than in changing it.
Then, one town over, a fourteen-year-old African American boy, Emmett Till, is killed for allegedly whistling at a white woman. When the killers are unjustly acquitted, Rose realizes that the South needs a change but she doesn't know if she should be part of the movement.
Why I recommend it:
Oh, there is so much to recommend here: an honest young-teen voice, authentic dialogue, memorable characters, and descriptions so fine you can just see the house Rose lives in, taste the butter beans, and feel the summer heat. After only a few pages, I felt as if Rose was a real 13-year-old, telling me her story. This is one of those novels you don't read so much as you inhabit, and you may find yourself walking around in Rose's shoes for a few days, justifiably angry at the terrible events of 1955. Even though this is historical fiction, it's absolutely relevant today, considering the state of the union.
Favorite lines:
"The sun beat down on me like I owed it money from six years back. Sweat dripped in my eyes so bad that I couldn't tell cotton from weeds..."
Bonus:
An excellent discussion-starter for classroom units about the Civil Rights movement. Plus, there's a sequel,
A Sky Full of Stars
, coming in January 2018!
Linda's website
Follow Linda on Twitter:
@LindaWJackson
Read
this moving guest post
by Linda on Caroline Starr Rose's blog.
In honor of Black History Month, what's your favorite historical novel about the Civil Rights movement?