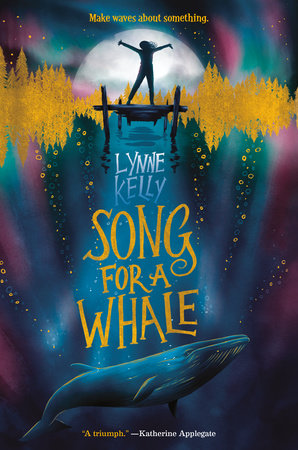 SONG FOR A WHALE
by Lynne Kelly (February 5, 2019, Delacorte Press/Penguin Random House, 320 pages, for ages 8 to 12)
Synopsis (from the publisher):
From fixing the class computer to repairing old radios, twelve-year-old Iris is a tech genius. But she's the only deaf person in her school, so people often treat her like she's not very smart. If you've ever felt like no one was listening to you, then you know how hard that can be.
When she learns about Blue 55, a real whale who is unable to speak to other whales, Iris understands how he must feel. Then she has an idea: she should invent a way to "sing" to him! But he's three thousand miles away. How will she play her song for him?
Why I recommend it: Such a touching story! And so beautifully told. I have a young cousin, a social worker, who studied sign language at Gallaudet University (and I'm giving her the hardcover review copy. Thank you, Penguin Random House!).
All the characters are multi-dimensional, and even the bully has a character arc. But it's the relationship between Iris and her deaf grandmother that really makes this book sing. The way the grandmother sneaks Iris onto the cruise to Alaska, only letting the parents know after Iris and Grandma are on the ship, is downright thrilling. Grandma, of course, has her own reasons for going on a cruise. And the scenes with the whale blew me away. You'll love reading this and you'll cheer for Iris and Blue 55. I'm also most impressed by the way the author, a sign language interpreter, chose to show the sign language dialogue between Iris and her Grandma. It's in italics, so it's easy to differentiate between other characters' spoken dialogue.
Favorite lines
(from p. 132): "
Grandpa always wanted to touch a glacier
." Grandma didn't turn back to the window, but kept looking right at me. She hadn't done that for a long time.
Lynne Kelly's website