Welcome to another Diversity Monday: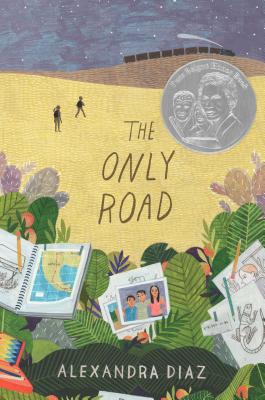 The Only Road by Alexandra Diaz (Oct 4, 2016, Simon & Schuster, 320 pages, for ages 9 to 13)
Synopsis (from Indiebound):
Jaime is sitting on his bed drawing when he hears a scream. Instantly, he knows: Miguel, his cousin and best friend, is dead. Everyone in Jaime's small town in Guatemala knows someone who has been killed by the Alphas, a powerful gang that's known for violence and drug trafficking. Anyone who refuses to work for them is hurt or killed--like Miguel. With Miguel gone, Jaime fears that he is next. There's only one choice: accompanied by his cousin Angela, Jaime must flee his home to live with his older brother in New Mexico.
Inspired by true events,
The Only Road
is an individual story of a boy who feels that leaving his home and risking everything is his only chance for a better life. It is a story of fear and bravery, love and loss, strangers becoming family, and one boy's treacherous and life-changing journey.
Why I recommend it:
With mentions of a politician planning to build a wall, and the urgency of the two cousins' need to find safety in the United States, you can't get more timely than this. A lovely and at times harrowing book,
The Only Road
won a
Pura Belpré
honor for 2016, and it definitely deserves it. This is an important story, about fear and friendship and survival, that humanizes current issues. The characters are so real they seem like children you know. The sense of urgency keeps you turning the pages, while the sensory details draw you in and let you experience what the children are going through in the small dusty villages in Guatemala and Mexico.
You may read a lot in the news about Mexicans coming here illegally, but from reading books like this (and
Libertad
by Alma Fullerton --
reviewed here
) you'll realize it's more often desperate refugees from Central America who are trying to flee to freedom
through
Mexico to the U.S. And it's not just kids from Guatemala. Jaime and Angela meet other refugee kids from Honduras and El Salvador, and all of them are trying to go north. They know if they stay, they'll be forced to join a gang or be killed for not joining the gang. This book is an impassioned plea for mercy for immigrant kids.
Here's a link
to a recent New York Times article on this very subject.
Favorite lines:
(from p. 30)
A mini-banquet of
desayuno chapin
had been laid out, like those American turkey feasts they showed in movies, "tanks geeveen" or something. Eggs from the chickens out back, Abuela's corn tortillas, black beans, fried plantains, sliced avocadoes and mangos, pork
salchichas
, and a steaming mug of hot chocolate...

Bonus:
An excellent discussion-starter for classroom units on immigration and current politics.
Alexandra Diaz's website
Follow her on Twitter