I'm pleased to announce a Giveaway winner for the signed hardcover copy of THE DRAKE EQUATION by Bart King. According to randomizer the winner is:
SUE HEAVENRICH
Congratulations, Sue! Look for an email from me asking for your mailing address.
* * *
And I'm so excited because I have a new giveaway this week and it's also SIGNED BY THE AUTHOR!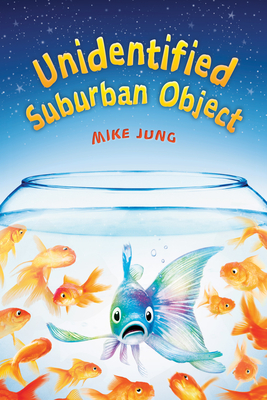 Unidentified Suburban Object by Mike Jung (April 26, 2016, Scholastic Press, 272 pages, for ages 8 to 12)
Synopsis (from Indiebound):
The next person who compares Chloe Cho with famous violinist Abigail Yang is going to HEAR it. Chloe has just about had it with people not knowing the difference between someone who's Chinese, Japanese, or Korean. She's had it with people thinking that everything she does well -- getting good grades, winning first chair in the orchestra, et CETera -- are because she's ASIAN.

Of course, her own parents don't want to have anything to DO with their Korean background. Any time Chloe asks them a question they change the subject. They seem perfectly happy to be the only Asian family in town. It's only when Chloe's with her best friend, Shelly, that she doesn't feel like a total alien.

Then a new teacher comes to town: Ms. Lee. She's Korean American, and for the first time Chloe has a person to talk to who seems to understand completely. For Ms. Lee's class, Chloe finally gets to explore her family history. But what she unearths is light-years away from what she expected.
Why I recommend it:
I've been one of Mike's loyal followers since, well, practically forever (in social media terms). I've always found his blog posts and tweets thoughtful and thought-provoking. He's a founding member of We Need Diverse Books (and yes, people, we STILL need diverse books!). But all of that is really besides the point because I LOVE THIS BOOK and I would love it even if I didn't know anything about the author and even if I hadn't read
GEEKS, GIRLS, AND SECRET IDENTITIES
, Mike's first MG novel, published in 2012.
Chloe's voice is pitch-perfect. You will feel you are listening to an actual twelve-year-old girl gripe about her parents and school. Her family history is wild and crazy, but makes for a fun, fast-paced read. Chloe's friendship with Shelly reminds me of actual friendships I had in junior high. And it's always refreshing to read a story in which the main character has two loving parents. Plus, this is a lighthearted, humorous novel that nevertheless delves into deeper issues of prejudice and racism. Today's kids need this book more than ever.
Favorite lines
(from page 66): "The notes spilled out of the violin strings like beams of sunlight, and I got that tingly feeling I always get when I'm playing something as well as I can play, except I was just playing a scale!"

Giveaway details: I have a SIGNED hardcover copy to give away. To enter, you must be a follower of this blog and you must comment on this post. US mailing addresses only, please (so sorry!). If you mention this giveaway on social media, please let me know and I'll give you extra chances. This giveaway ends at 10:00 pm EDT on Sun June 5 and the lucky winner will be announced on Monday June 6, 2016. Good luck!