First, I have a giveaway winner to announce, from Feb 6th. According to randomizer, the winner of the hardcover of JASPER AND THE RIDDLE OF RILEY'S MINE by Caroline Starr Rose (plus, a journal!) is:
Congratulations! Expect an email from me asking for your mailing address.
* * *
Now on to today's MMGM (visit
Shannon's blog
for other MMGM posts). And another giveaway!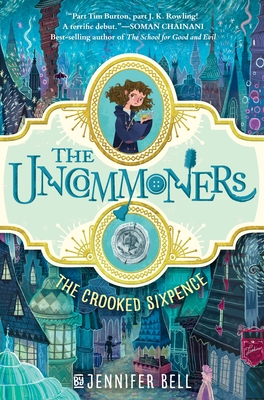 The Uncommoners, Book One: The Crooked Sixpence by Jennifer Bell (January 31, 2017, Crown Books for Young Readers, 320 pages, for ages 8 to 12)
Synopsis (from the publisher):
When their grandmother Sylvie is rushed to the hospital, Ivy Sparrow and her annoying big brother Seb cannot imagine what adventure lies in store. Soon their house is ransacked by unknown intruders, and a very strange policeman turns up on the scene, determined to apprehend them . . . with a toilet brush. Ivy and Seb make their escape only to find themselves in a completely uncommon world, a secret underground city called Lundinor where ordinary objects have amazing powers. There are belts that enable the wearer to fly, yo-yos that turn into weapons, buttons with healing properties, and other enchanted objects capable of very unusual feats.
But the forces of evil are closing in fast, and when Ivy and Seb learn that their family is connected to one of the greatest uncommon treasures of all time, they must race to unearth the treasure and get to the bottom of a family secret . . . before it's too late.
Why I recommend it:
This book is adorable! An absorbing and imaginative fantasy/adventure, which provides a lovely escape from the real world.
I was impressed by Bell's world-building and the details of the plot. Ivy is a likable character, and there's more than enough intrigue. You'll find yourself eager to accompany Ivy and Seb (along with their new friend, a thief named Valian), on their adventure.
Harry Potter fans may recognize the influence (maps that show were someone is, commoners being called not muggles but "muckers") but it didn't bother me. In fact, it made me smile. This could easily become a favorite new series for middle grade readers.
Favorite lines
: (from p. 28 of the arc) The rapid fire of hoofbeats sounded on the other side of the hedgerow. A wild neigh followed the clatter of something loud and heavy, and then Officer Smokehart came tearing along toward them. He moved impossibly fast, his arms pumping as his black cloak mushroomed up behind him.
Bonus
: It's illustrated! Delightful drawings by Karl James Mountford are sprinkled throughout (final art not seen in arc).
Jennifer Bell's website
Follow Jennifer on Twitter
Giveaway details:
The publisher has generously offered one hardcover copy for a giveaway. This giveaway is open to US mailing addresses only (so sorry!) and will end on Sunday, March 5, 2017 at 10 pm EST, with the winner to be announced Monday March 6. To enter you must be a follower of this blog and you must comment on this post. Good luck!