No, I didn't fall off the face of the Earth, but I have been traveling a lot and also occasionally dealing with migraines. I thought these new glasses would help but instead I suspect they're making it worse. Hope to get back to regular blogging again by September.
Now onto today's Diversity Monday and MMGM review: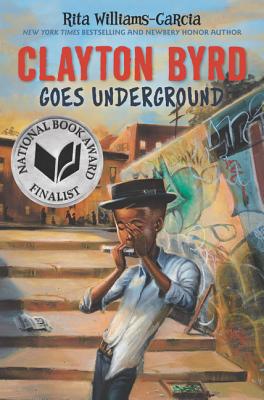 Clayton Byrd Goes Underground by Rita Williams-Garcia (May 2017, Amistad/HarperCollins, 176 pages, for ages 8 to 12)
Synopsis (from Indiebound
): Clayton feels most alive when he's with his grandfather, Cool Papa Byrd, and the band of Bluesmen--he can't wait to join them, just as soon as he has a blues song of his own. But then the unthinkable happens. Cool Papa Byrd dies, and Clayton's mother forbids Clayton from playing the blues. And Clayton knows that's no way to live.
Armed with his grandfather's brown porkpie hat and his harmonica, he runs away from home in search of the Bluesmen, hoping he can join them on the road. But on the journey that takes him through the New York City subways and to Washington Square Park, Clayton learns some things that surprise him.
Why I recommend it:
Knowing up front that Cool Papa is going to die doesn't make it any less heartwrenching, but there are still many uplifting moments in this touching little gem of a novel. Short chapters and spare lyrical language make it a smooth and easy read. Clayton is a likable character and you'll find yourself pulled in as he goes underground, in both senses of the word.
Rita Williams-Garcia is the talented author of
One Crazy Summer
and other books.
Favorite lines:
"Clayton stretched and opened his eyelids just as the violet of night turned pale blue and before white-yellow sun streams ran the pale blues out of the room." (from p.17 of the arc)