Today we celebrate Martin Luther King Jr.'s birthday, and I'm commemorating it with another Diversity Monday here at My Brain on Books! This is a book I missed reading last year, so during my November/December blogging break, I caught up.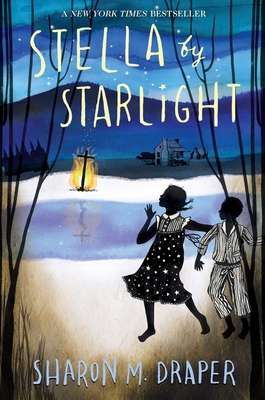 Stella by Starlight by Sharon M. Draper (hardcover January 2015, paperback March 2016, Atheneum Books for Young Readers, 336 pages, for ages 9 to 13)
Synopsis (from the publisher):
It's 1932. Stella lives in the segregated South in Bumblebee, North Carolina, to be exact about it. Some stores she can go into. Some stores she can't. Some folks are right pleasant. Others are a lot less so. To Stella, it sort of evens out, and heck, the Klan hasn't bothered them for years. But one late night, later than she should ever be up, much less wandering around outside, Stella and her little brother see something they're never supposed to see, something that is the first flicker of change to come, unwelcome change by any stretch of the imagination. As Stella's community, her world, is upended, she decides to fight fire with fire. And she learns that ashes don't necessarily signify an end.
Why I recommend it
: Not only is the writing lovely, but this is an important story about a dreadful part of our history (which, unfortunately, in some ways is still going on). It's also written in a way that's accessible for the age group, despite the subject matter.
Furthermore, Stella is one of my new favorite MG characters, spunky, and smart, with so much honesty and heart that it fairly spills from the pages. Her struggles to write are relatable for any student who has trouble in school. This book may look long, but the 50 chapters are each quite short, some only two pages.
Favorite lines
: "Stella loved the feel of that table--she loved to trace the circular patterns in the warm brown wood. Made of elm and built by her father when he married her mother, the table was large, sturdy, and dependable--and so much more than a place for meals. " (from p. 4 of the paperback edition)
Bonus
: An excellent discussion-starter about the KKK, segregation, and mistreatment of African-Americans, as well as life during the Great Depression.
Sharon M. Draper's website
Find links to other MMGM posts
on Shannon Messenger's blog
Find plenty of diversity posts at
Pragmatic Mom
and
The Logonauts
Read
about Multicultural Children's Book Day here