I'm back! Hope everyone had a safe and happy New Year's and I wish you all the best in 2017. Today I'm featuring another Diversity Monday.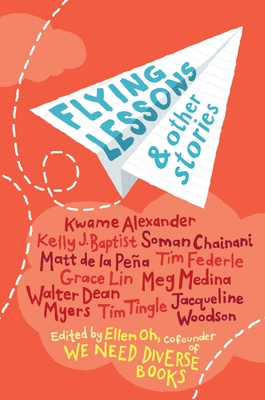 Flying Lessons & Other Stories, edited by Ellen Oh (January 3, 2017, Crown Books for Young Readers, 240 pages, for ages 8 to 12)
Synopsis (from the bookjacket):
We need diverse stories. Whether it is basketball dreams, family fiascos, first crushes, or new neighborhoods, these stories celebrate the uniqueness in all of us. Award-winning and bestselling middle grade authors Kwame Alexander, Soman Chainani, Matt de la Pena, Tim Federle, Grace Lin, Meg Medina, Walter Dean Myers, Tim Tingle, and Jacqueline Woodson are joined by newcomer Kelly J. Baptist in this anthology partnership with We Need Diverse Books, edited by Ellen Oh. From ten distinct authors come ten unique stories ready for flight.
Why I recommend it:
Providing diverse stories for our children (whether it's so they can see themselves, or so they can develop a better understanding of others) is more important than ever in these troubling times. And these ten stories by a diverse group of middle-grade authors are accessible, fast-paced, and filled with memorable characters. They can be read in little sips (one story at a time) or big gulps (several at a time). They can be read in any order.
I believe that diversity should include more than different racial backgrounds, so, while all these stories are important, I'm also grateful for Walter Dean Myers's story about a boy on a wheelchair basketball team, and Tim Federle's story about gender identity.
Favorite story
: These stories are all so fine and so well written that I had a hard time picking out a favorite. Read them all! (However, I admit I may be a bit partial to Kwame Alexander's intriguingly-titled story in verse, "Seventy- Six Dollars and Forty-Nine Cents".)
Bonus:
This is an excellent read-aloud for classrooms or at home, and the perfect conversation-starter with your kids about diversity.
We Need Diverse Books website
Find other diverse children's books at:
Pragmatic Mom
and
The Logonauts