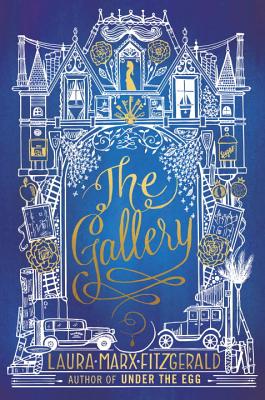 The Gallery by Laura Marx Fitzgerald (June 14, 2016, Dial Books, 336 pages, for ages 9 to 13)
Synopsis (from the publisher):
It's 1929, and twelve-year-old Martha has no choice but to work as a maid in the New York City mansion of the wealthy Sewell family. But, despite the Gatsby-like parties and trimmings of success, she suspects something might be deeply wrong in the household—specifically with Rose Sewell, the formerly vivacious lady of the house who now refuses to leave her room. The other servants say Rose is crazy, but scrappy, strong-willed Martha thinks there's more to the story—and that the paintings in the Sewell's gallery contain a hidden message detailing the truth. But in a house filled with secrets, nothing is quite what it seems, and no one is who they say. Can Martha follow the clues, decipher the code, and solve the mystery of what's really going on with Rose Sewell?
Why I recommend it: Martha, also known as Marty, is one of the spunkiest, most determined, and funniest female main characters I've come across in recent MG fiction. Her first-person narration is always honest and often hilarious, even as she delves more deeply into the dark mystery of Rose Sewell. Like Laura's previous novel, Under the Egg, the mystery centers around art. You'll learn a great deal about art history and mythology, as well as the election of Herbert Hoover and the 1929 stock market crash. The period details are spot-on.
Favorite lines: "Here's the thing. Once I set to wondering something, my mind skips straight ahead. Like my brothers running into traffic." (from p. 13)
Giveaway details: Through the generosity of the publisher, I have one hardcover copy to give away. To enter, you must be a follower of this blog and you must comment on this post. If you mention the giveaway on social media, please let me know and I'll give you extra chances. This giveaway is only for US and Canadian mailing addresses and ends at 10 pm EDT on Sunday August 28. Winner to be announced Monday August 29.