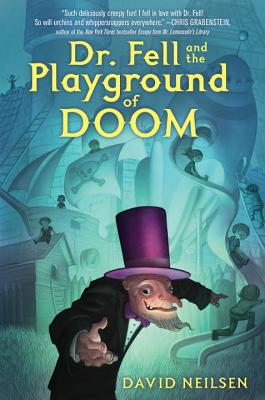 I'm honored to be part of the blog tour for
Dr. Fell and the Playground of Doom
, the MG debut novel of storyteller
David Neilsen
(August 9, 2016, Crown Books for Young Readers, 240 pages, for ages 8 to 12).
Dr. Fell moves into town and builds an elaborate playground in his yard that attracts every kid for miles around. But as more and more kids are injured--and then quickly cured by the doctor--Jerry, Gail, and Nancy are the only ones who realize something's not right. Perfect for readers who like creepy tales that are a little scary but not
too
scary. I enjoyed the way the three main characters had to learn to work together to try to defeat Dr. Fell. Bonus: This would be an amazing read-aloud!
David is taking over my blog for the day to tell us about his writing journey and give us some (possibly tongue-in-cheek) advice. Take it away, David!
One Writer's Journey
or How a Comic Actor Got a Book Deal Writing Children's Horror
By David Neilsen
In the beginning, I was a comic actor. No, seriously. I was a theater major, I got a college degree in it and everything, and after college I moved to LA to become the next Steve Martin. The thing is, LA already had a glut of 'the next Steve Martins', and they really weren't hunting for any more.
Going from acting to writing was only natural. In fact, it's sort of cliche. If you can't get cast in a movie, you write your own movie and cast yourself in it. So I began to write funny screenplays that no one read or cared about. But it made me feel good. Then one day I had this idea for a horror film. So I wrote it. And I got noticed. I got a manager, I had meetings with people in shiny buildings. I wrote a dark and twisted TV pilot that got optioned (which means a studio buys it, then lets it sit and collect dust for a year before giving up on it). Suddenly I was a horror writer. Me. The comedy guy, writing horror. Who knew? I wasn't even aware I had a dark side.
After a bunch more screenplays that didn't sell, my manager gave up on me and I was done. Washed up. A has-been who never-was. So I decided to write a book.
Actually, first I had to write a short story to make sure I knew how to write something other than people talking to each other, which is basically what a screenplay is. My short stories turned out pretty good, I was emboldened, and so I bit the bullet and started writing a book. Well, to be honest, I started writing two books. I would switch from one to the other every few days when I got bored, hoping that one of them would catch fire in my imagination and take over. Days passed. The two books soldiered on.
Then one caught fire.
You know that feeling you get when you suddenly understand your purpose in the world and everything makes sense and you feel totally fulfilled and universally loved and at peace with the universe? Yeah, it wasn't quite like that, but it was good. I burned through the story, barely stopping to eat or sleep or… well… I stopped sometimes. I mean it took me a couple of months, after all. But if you want to imagine me typing away 24/7 you go right ahead.
Another awesome photo of David from his website
Eventually I had a book. A children's book. A dark, creepy, funny children's book. A dark, creepy, funny, children's book that was 114,000 words long.
That's very long. Like very, very long. Like nobody not named Rick Riordan writes Middle Grade books anywhere near that long. But I didn't care. I had a book. And it was awesome. I proceeded to submit it to agents and publishers and sat back to wait for the offers to roll in. Which they didn't. I got some very nice rejections, mind you, but the golden ticket of acceptance remained elusive. I couldn't fathom why.
So I went ahead and did what you are told to never, ever do. I bothered some working writers. I looked them up online and emailed them with some form of "Hey! You've sold books! Can you look at my book and tell me why I'm not selling mine?" This is very bad etiquette. Most authors responded in the most appropriate of ways--they ignored me.
But one didn't. God bless his soul, one author who shall remain nameless so as to preserve the sanctity of his inbox came back with a "Sure. Why not?" I sent him my 114,000-word book. I expected to hear back from him in about a year or so, if not a little longer. But once again, this saint of a man shocked me all to Heck. Two days later I got an email. He'd read my first chapter. He had some comments. He'd included some notes. He thanked me for the chance to read my book. I opened the attachment. SOME comments? His lists of notes and suggestions was almost longer than the chapter itself. They were glorious. I learned more about writing from that one email than from any course I'd ever taken or symposium I'd ever attended or Webcast I'd ever downloaded. I took his comments to heart and whittled my 17-page first chapter down to 9 pages. It was tight and chock full of nature's goodness.
Then fate struck again. That saint of a writer? He was doing a reading and signing at a bookstore nearby. I went. Afterwards, I introduced myself, thanked him profusely for his help, and very timidly asked if he'd look at my now 9-page first chapter. I assumed he would mock me for daring to disturb him a second time. I was ready to be back-handed and sent flying into the bookshelves.
Instead, he said sure.
I drove home and sent him the pages that very night, again expecting to hear from him in six or seven months. The next morning he wrote me a simple message. "This is good. Do the rest of the book like you did this chapter and I'll forward it to my agent."
It took another two months of editing, but I turned the 114,000-word book into a 102,000-word book without really missing a single thing. I sent it to this saint of an author, who sent it to his agent. A few weeks later, the agent contacts me. He loves it! It's too long. Can I make it closer to 50,000 words?
I cried.
But then inspiration struck. My book was divided into three Acts (I was an actor at heart, after all). What if I tucked the climax of the book into the end of the second act and saved the third act for a sequel? So that's what I did. In the end, the book--which had once been a very proud 114,000 words--was now just under 69,000. I hoped it would be short enough.
It was.
My Awesome Agent took me on and proceeded to pitch the book to publishers. I had made it.
Or, well, no. I hadn't made it. Because try as he might, Awesome Agent was unable to sell the book. It still, to this day, has not sold. And it is awesome. And available if anyone is interested.
But Awesome Agent believed in me. And I got possessed with the idea for a second book, entitled Dr. Fell. I wrote it in a ridiculously-short amount of time, reveled in its ridiculously-small word count of just under 45,000, and sent it to Awesome Agent. He loved it. He pitched it. It sold very, very quickly. They liked it so much, they gave me a two-book deal. The second book is not, however, a sequel. Nor is it my first book. It is my third book. Now I'm currently editing my fourth book, which I hope to sell as my third book, unless my second book, which is my first book, does well and I can interest people in my first book, which would then become my third or fourth book.
Still with me?
This month, my debut novel, Dr. Fell and the Playground of Doom (the publisher played with the title and I have to admit, I like what they came up with), will be released. I'm quite proud of it and think it's awesome and you should go pre-order a copy from Amazon right now. My second book (which is really my third), already has a release date of August 1, 2017. After that, the sky's the limit.
So how did I get here? How did I land an agent and a book deal? More importantly, how can you do the same?
Perseverance. And luck. And quite a bit of being a pest.
Because as much as I don't want to admit it; it really, truly is WHO you know. I got my agent because I lucked into finding a working author who agreed to read my stuff and send it to his agent. Years earlier, I'd gotten my manager because a friend of mine sent her my script. So start meeting people. Introduce yourself. You never know who's going to be an important contact. Be nice and humble while you're doing it, but get out there. Your fellow writers are your best targets, because, well, we're writers. We crave attention. Nobody ever notices us or compliments us or says nice things about us. Say nice things about us and you'd be surprised where it gets you. Do yourself a favor and email your favorite writer today. They probably won't return your email, but you never know. What can it hurt?
But don't email me, cause I'll probably just ignore you. I can do that now.
The blog tour for David Neilsen's
Dr. Fell and the Playground of Doom
continues tomorrow
on
The Boy Reader
!