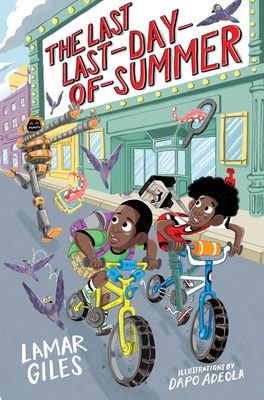 The Last Last-Day-of-Summer by Lamar Giles (April 2, 2019, Versify, 304 pages, for ages 8 to 12)
Synopsis (from Indiebound)
: Otto and Sheed are the local sleuths in their zany Virginia town, masters of unraveling mischief using their unmatched powers of deduction. And as the summer winds down and the first day of school looms, the boys are craving just a little bit more time for fun, even as they bicker over what kind of fun they want to have. That is, until a mysterious man appears with a camera that literally freezes time. Now, with the help of some very strange people and even stranger creatures, Otto and Sheed will have to put aside their differences to save their town—and each other—before time stops for good.
Why I recommend it:
This is lively, fast-paced and funny, with plenty of kid-like humor. A winning combination. Heck, even I want to live in a town like Fry! There's a Gnarled Forest where trees never have leaves, an Eternal Creek, with no beginning or end, and strangers arrive through shimmering portals. All this is perfectly normal for Fry.
The cousins make a great crime-solving team. Before the story begins, they've already solved several cases like The Laughing Locusts, and The Mystery of the Woman in Teal. Wish we could read about
those
cases too! But freezing time is a great concept and Lamar Giles has a vivid imagination.
Favorite lines:
"(Otto) looped an arm over Sheed's shoulder, hoping his cousin didn't have his usual awkward smile. Their picture had been in the Logan County Gazette a bunch of times, and Sheed always looked like he was trying to suck broccoli from his teeth."
Lamar Giles
is a founding member of We Need Diverse Books, and the editor of FRESH INK!
Visit his website.
Here's Greg Pattridge's take
on
The Last Last-Day-of-Summer
from March 24, 2019.
For other Marvelous Middle Grade Monday posts, visit
Greg's website.