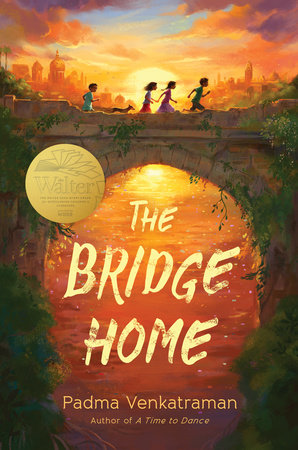 The Bridge Home by Padma Venkatraman (February 5, 2019, Nancy Paulsen Books/Penguin Random House, 208 pages, for ages 10 and up)
This beautifully written novel, set in modern-day Chennai, India, follows two sisters, Viji and Rukku. After their father abuses their mother, who refuses to leave him, and then attacks both girls in a drunken rage, Viji convinces her special-needs sister Rukku to run away with her and live on the streets. Eleven-year-old Viji misses school, but realizes they can never go back.
Life on the streets is much harder than Viji anticipated, until they receive food from the kind wife of a cafe owner. Seeking a place to sleep, the girls discover a crumbling, abandoned bridge, where two homeless boys, Arul and Muthi, are already living. The boys welcome them and give them a tarp for a tent. They also teach the girls how to earn money by picking through stinking trash heaps for useful metals and other items they can sell to the junkman. Well, Viji works in the trash heaps, while Rukku plays with a puppy who followed them.
But it's Rukku who ends up earning the most money by making beautiful bead necklaces out of the beads the cafe owner's wife gave them. College girls buy the pretty necklaces and all four children get to feast that day. The children almost enjoy their homelessness, knowing they're in charge of their own lives. But when Rukku and Muthi both become sick, Viji and Arul realize they need to trust an adult.
There is both sadness and sweetness in this gorgeous novel, written as one long letter from Viji to Rukku. You know right from the start that there's a reason the girls are separated but you won't know what it is for most of the book. Viji is a wonderful character, full of resilience and love for her sister.
This timely, important, and life-affirming novel not only makes an inspiring read but would be an excellent addition to classrooms and libraries. See also Melissa Sarno's
Just Under The Clouds
(
my review here
), about homelessness and special-needs sisters.
Favorite lines
(from p. 48): "Sleep well in your new home," Arul said.
We crawled into our tent. I took out the book Parvathi Teacher had given me and strained my eyes, trying to read in the semi-darkness, but I could hardly make out the words. I put the book away and thought of how kind she had been to us.
"When I grow up, I want to be a teacher," I told you.
________________________________________________
I'm honored to have met and learned from the brilliant Padma Venkatraman at two Highlights Foundation workshops! I've now read all four of her novels published in this country, and look forward to whatever she writes in the future. Please visit her website:
Padma Venkatraman
for more information.