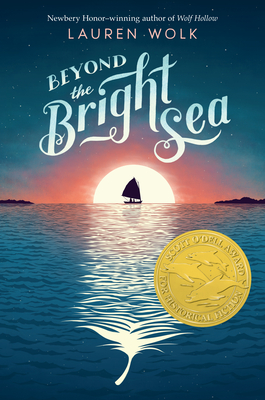 Beyond the Bright Sea by Lauren Wolk (May 2, 2017, Dutton Books for Young Readers, 304 pages, for ages 9 to 13)
Synopsis (from Indiebound)
: Twelve-year-old Crow has lived her entire life on a tiny, isolated piece of the starkly beautiful Elizabeth Islands in Massachusetts. Abandoned and set adrift in a small boat when she was just hours old, Crow's only companions are Osh, the man who rescued and raised her, and Miss Maggie, their fierce and affectionate neighbor across the sandbar.
Crow has always been curious about the world around her, but it isn't until the night a mysterious fire appears across the water that the unspoken question of her own history forms in her heart. Soon, an unstoppable chain of events is triggered, leading Crow down a path of discovery and danger.
Why I recommend it:
It's rare that a novel is both a literary gem and a page-turning thriller. Lauren Wolk's first MG novel,
Wolf Hollow
, won a Newbery honor. This book should win the Newbery medal itself. Of course, my batting average for Newbery predictions is not exactly perfect. But that's how strongly I feel about this gorgeously-written and deftly-plotted novel. It's also set in the 1920s, one of my favorite time periods. The metaphors made me gasp, the characters seemed like real islanders, and the mystery kept me guessing. Why was Crow set adrift when she was a newborn? No spoilers here! But as you read this, you'll ache and wonder along with Crow, who yearns to understand her origins. Though she's been raised by Osh, Crow doesn't look like him or like Miss Maggie or any of the folks in town. But that's not the only reason the townspeople avoid her.
Favorite lines
: "She took my chin and leaned down to look into my face, so close that I could see the green in her brown eyes, as if they were little round gardens." (p. 42 of the arc)
Bonus:
This stunning book would be perfect for showing kids that families come in all forms. It could also convince readers who don't normally care for historical fiction that it can be just as exciting as a thriller.
Lauren Wolk's website
Follow Lauren on Twitter
For other Marvelous Middle Grade Monday posts, see Shannon Messenger's blog.