Sorry for my absence but I've been dealing with family issues and health issues, as well as working on revisions for the Advanced Novels in Verse workshop I'll be attending at Highlights in June.
Welcome to another Diversity Monday. It's also Poetry Month, so I'm celebrating both at once with this lovely book. Thanks to a librarian friend from the 2016 Novels in Verse Workshop for introducing me to this one.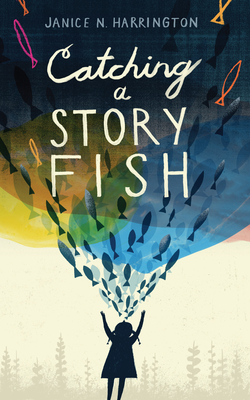 Catching a Storyfish by Janice N. Harrington (September 2016, Wordsong, 224 pages, ages 8 to 12)
Synopsis (from Indiebound):
Keet knows the only good thing about moving away from her Alabama home is that she'll live near her beloved grandfather. When Keet starts school, it's even worse than she expected, as the kids tease her about her southern accent. Now Keet, who can "talk the whiskers off a catfish," doesn't want to open her mouth. Slowly, though, while fishing with her grandfather, she learns the art of listening. Gradually, she makes her first new friend. But just as she's beginning to settle in, her grandfather has a stroke, and even though he's still nearby, he suddenly feels ever-so-far-away. Keet is determined to reel him back to her by telling him stories; in the process she finds her voice and her grandfather again. This lyrical and deeply emotional novel-in-verse celebrates the power of story and of finding one's individual voice.
Why I recommend it:
This is gorgeous. A warm and moving celebration of poetry, words, and voice. There's a compelling story here, told with plenty of humor and compassion, as Keet adjusts to her new life. But the book is also a word-feast, using many different forms of poetry. Concrete poetry, haiku, haibun, narrative poems, and even the difficult-to-write forms of pantoum (repeats the second and fourth line of each quatrain as the first and third line of the next) and contrapuntal, which can be read in three ways (the left column one poem, the right column another poem and when read together, left to right, there's a third poem!). A poetry glossary at the back explains it all.
Favorite lines (from JUST THE RIGHT SPOT, p. 39):
Grandpa knows my tongue
is wiggly as a wiggle-worm
and quick as a mosquito
so wherever we look, he says, "
Shhhhh
.
Shhhh
. The fish will hear you."
Bonus:
Perfect for classroom lessons on different forms of poetry.