First, I have a winner to announce. According to randomizer, the winner of the hardcover copy of THE UNCOMMONERS #1: THE CROOKED SIXPENCE by Jennifer Bell is:
THERESA MILSTEIN
Congratulations! Expect an email from me asking for your mailing address.
* * *
And now for another Diversity Monday!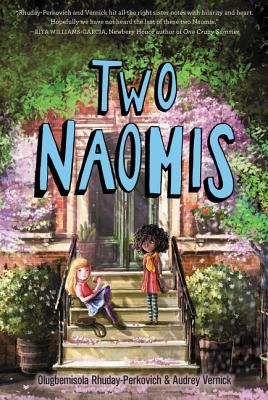 Two Naomis by Olugbemisola Rhuday-Perkovich & Audrey Vernick (September 2016, Balzer & Bray, 208 pages, for ages 8 to 12)
Synopsis
(
from Indiebound
): Other than their first names, Naomi Marie and Naomi Edith are sure they have nothing in common, and they wouldn't mind keeping it that way.
Naomi Marie starts clubs at the library and adores being a big sister. Naomi Edith loves quiet Saturdays and hanging with her best friend in her backyard. And while Naomi Marie's father lives a few blocks away, Naomi Edith wonders how she's supposed to get through each day a whole country apart from her mother.
When Naomi Marie's mom and Naomi Edith's dad get serious about dating, each girl tries to cling to the life she knows and loves. Then their parents push them into attending a class together, where they might just have to find a way to work with each other--and maybe even join forces to find new ways to define family.
Why I recommend it:
This is a warm-hearted, uplifting, and funny story about blended families, told in alternating POVs by the two Naomis. They're both jump-off-the-page real and honest and likable. I love that their differences are about which subject they like in school or which bakery in Brooklyn they prefer, or the fact that they simply don't want to get to know each other because they each already have a best friend. I like that the story isn't about race. It's about ten-year-old kids coping with divorce and blended families. It's about two girls who may even find they have something wonderful in common.
I knew this book would be funny and honest because I've had the privilege of attending a workshop, given by these two awesome authors, about humor in MG novels. It was a few years ago, at a New Jersey SCBWI conference, and the best thing about it was how their friendship came shining through. Oh, and the laughs were real.
Favorite lines
: I thought I'd give each girl a chance, so here's Naomi Marie, from p. 4. "Ms. Starr sparkles again, which must be something they teach in librarian school, because Momma is like that too, especially these days whenever she talks about Tom. She's almost as excited about Tom as she is about Poem in Your Pocket Day."
And here's Naomi E, from p. 12. "In the back corner, where the sun shines for most of the day in the summer, I have my own garden. Last summer I grew strawberries and tomatoes. I loved picking them when every last bit of green faded away and they were the perfect shade of ready-to-eat red. When they're ripe, you almost don't have to pull--they practically drop into your hand."
Bonus
: All of the parents are likable people too. Often in MG novels the adults come off as mean or distant, or the divorce is someone's "fault". Not so here. I wanted to hug every one of the characters in this book, kids and grownups alike.
Olugbemisola's website
Follow Olugbemisola
on Twitter
Audrey's website
Follow Audrey
on Twitter