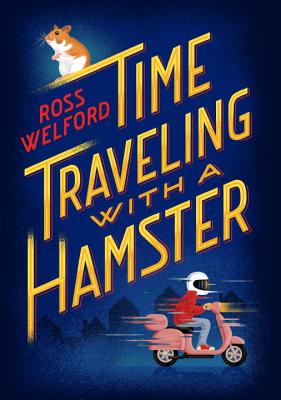 Time Traveling With a Hamster by Ross Welford (Schwartz & Wade, 2016)
(See
my review in last week's post
.)
Ross Welford, author of
Time Traveling With a Hamster
, kindly agreed to answer three questions for My Brain on Books.
1) Your time travel rules make so much sense I actually believed time travel was possible. How did you come up with these rules?
Thank you for noticing! Time travel is - I discover - a nightmare to plot, so it's nice to hear I got it right. The main thing I had to invent was "Dad's Law Of Doppelgängers" - the rule that states you can occupy a bit of space-time only once. This came from necessity, really. Let's say you have a time-machine and, like Al, you go back in time and create a big disaster... (I'm being careful with spoilers here: if you've read it you'll know what I mean). So what's to stop you getting back into your time-machine, and travelling back in time again and putting it right? I'd end up with a sort of time travelling Groundhog Day. I did not want Al to be able to do that. There was another thing in my mind as well, and that was Back To The Future. I love those films, but I wanted to avoid too many similarities. I'm especially thinking of the scene where Marty sees himself playing guitar at the school dance. I did not want Al to meet himself. (Why not? Dunno, just didn't.) Out of that grew the doppelgänger 'rule' and once I'd worked it out, it actually kind of made sense! Time travel is, obviously, a fantasy - but I think it's quite a powerful fantasy, and it was fun to try to make it seem real, if only for the duration of the story.


2) This is your debut novel and I'm most impressed. Tell us briefly about your writing journey. Were there other (unpublished) books you wrote along the way? How did you find your agent?
About seven years ago I studied part-time for an MA in Screenwriting. Until then I had written virtually no fiction ever. Screenwriting's a hard gig, though, and I did nothing with the MA I gained. So in 2013, I started a story about a kid who finds a time portal in a cupboard at school. Then I stopped at about 20,000 words, stuck on where to go next. My local adult ed center was running a course based on NaNoWriMo, the writing club that hauls you through a 50,000 word draft in a month. That was November. After a couple more drafts, by spring 2014 it was the story we now have, more or less. Different title, different ending, but still…
So, I knew that I had to start sending it out there, but I knew no one in publishing and sent out about four and then... A friend at a party said that he happened to know someone who worked at the literary agency Peters, Fraser & Dunlop (I had never heard of them, knowing next to nothing about publishing). So I sent it off and waited, and waited, and waited…. And then things happened very quickly. In December, I received a call from Silvia Molteni from PFD who took me on as a client straight away, and about
three months later
I had a two-book deal with Harper Collins, UK. Shortly after that, it was sold to the US. (Schwartz & Wade, Penguin Random House). A second book,
What Not To Do If You Turn Invisible
will be out in the UK early 2017.
Yay!
(And an aside here to fellow writers: I do realize that this is far from typical and that I have been very fortunate. Sorry!)
3) You're right, Ross. That's far from typical! But congratulations! Now, could you briefly describe your writing space? Was it plastered with charts and timetables a la
A Beautiful Mind
while you were writing TIME TRAVELING WITH A HAMSTER?
Early on, I did try plotting with yellow post-its arranged on a large glass door, and then I tried color-coding for when the action was in 1984! It just got in the way though, and I found I didn't need it. Quite a lot of Al's adventures were unplanned - inasmuch as I didn't know when I started writing the book that he would get into the scrapes he does. Instead of post-it notes, there were lots of scribbled notes with arrows and crossings-out. When I submitted the final draft, I was certain there were no errors in the timeline. The editors found two - thankfully easily fixed. Hurrah for copy editors!
They certainly did a great job. Thanks for stopping by, Ross.
Giveaway details: The publisher has generously offered one hardcover copy for a giveaway. To enter, you must be a follower of this blog and you must comment on this post. If you mention this giveaway on social media, please let me know and I'll give you extra chances. This giveaway is open to U.S. mailing addresses only. Giveaway ends Sunday October 16th at 10 pm EDT and the winner will be announced on Monday October 17th. Good luck!