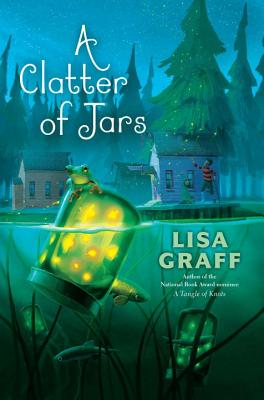 A Clatter of Jars by Lisa Graff (May 2016, Philomel, 224 pages, for ages 8 to 12)
Synopsis (from Indiebound)
: In this magical companion to the National Book Award nominee
A Tangle of Knots
, it's summertime and everyone is heading off to camp. For Talented kids, the place to be is Camp Atropos, where they can sing songs by the campfire, practice for the Talent show, and take some nice long dips in the lake. But what the kids don't know is that they've been gathered for a reason, one that the camp's director wants to keep hidden at all costs.
Meanwhile, a Talent jar that has been dropped to the bottom of the lake has sprung a leak, and strange things have begun to happen. Dozens of seemingly empty jars have been washing up on the shoreline, Talents have been swapped, and memories have been ripped from one camper's head and placed into another. And no one knows why.
With a camp full of kids, a lake full of magic, and a grown-up full of a secrets, "A Clatter of Jars" is a story of summer, family, and the lengths we go to win back the people we love.
Why I recommend it
: I've been a fan of author Lisa Graff since
Umbrella Summer
and it's been awe-inspiring to watch her talent grow over the years. I love the magical realism of this perfect summer tale. And I adore how it all comes together in the end. You don't need to read
A Tangle of Knots
to appreciate this fun and sophisticated summer camp yarn, since it's about different characters, but it adds to your enjoyment if you're familiar with the first book and the Talented world Lisa Graff has created. And Cady makes a cameo appearance here!
Favorite lines
: Memory is a curious thing. Some details stick in our minds like peanut butter on crackers, and refuse to budge, as much as we might wish they would. (from p. 51)
Bonus:
Plenty of diversity among the large cast of characters. Plus... recipes! This time for refreshing summer drinks.
Giveaway details
: Thanks to the generosity of the publisher, I have one hardcover copy of
A Clatter of Jars
to give away, along with a paperback of
A Tangle of Knots
(and if you're the lucky winner and you've already read
A Tangle of Knots
, I could substitute another Lisa Graff paperback). To enter, all you need to do is follow my blog and comment on this post. If you tweet about it or mention it on social media, please let me know and I'll give you extra chances. This giveaway is open to mailing addresses in the US and Canada ONLY and ends at 10:00 pm EDT on Sunday July 24. Winner to be announced on Monday July 25. Good luck!