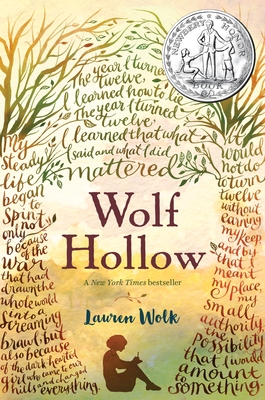 Wolf Hollow by Lauren Wolk (May 3, 2016, Dutton Children's Books, 304 pages, for ages 8 to 12)
Synopsis (from Indiebound):
Growing up in the shadows cast by two world wars, Annabelle has lived a mostly quiet, steady life in her small Pennsylvania town. Until the day new student Betty Glengarry walks into her class. Betty quickly reveals herself to be cruel and manipulative, and while her bullying seems isolated at first, things quickly escalate, and reclusive World War I veteran Toby becomes a target of her attacks. While others have always seen Toby's strangeness, Annabelle knows only kindness. She will soon need to find the courage to stand as a lone voice of justice as tensions mount. Brilliantly crafted, "Wolf Hollow" is a haunting tale of America at a crossroads and a time when one girl's resilience and strength help to illuminate the darkest corners of our history.
Why I recommend it:
This book blew me away. I'm impressed by the imagery and the voice, and astonished by the depth here. Any adult who dismisses the importance of children's literature should read this novel. A haunting story that will stay with me for a long time.
Wolf Hollow
may not appeal to kids looking for an easy read with exciting adventures, but middle school readers who prefer something deeper, quieter, and more literary will find much to love here. I've read reviews comparing this to
To Kill a Mockingbird
and I admit the comparison is apt, but it's rural Pennsylvania and not the South, and instead of race, this book addresses class differences and bullying. Younger readers may find a few scenes frightening. (I would suggest 9 and up or even 10 and up.)